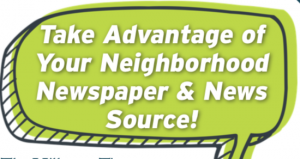 The Millstone Times is all about bringing people together and fostering a closer-knit community! Check out the many ways that you can contribute to and take advantage of your monthly neighborhood newspaper:
MEET YOUR NEIGHBOR
Get to know your neighbors and community one resident at a time. We enjoy featuring residents from all walks of life. Make the newspaper your own by submitting nominations of families or individuals who you would like to see highlighted.
SOCIAL SCENE
What's happening in your neighborhood? If you're part of a book club, social group or charity organization promoting fun or service in the community, share your experiences and photos, and invite others to join you!
STUDENT OF THE MONTH
With parental permission, we highlight an extraordinary student each month. We showcase budding athletes, artists and actors among our community by submitting photos and details on kids' accomplishments, as well as information on school events and fundraisers your family and the local schools are involved in.
SHARE YOUR PHOTOS!
Do you have pictures from your latest vacation? Have you captured a nature scene or a touching moment that begs to be shared? Let us help pre- serve your memories!
PET OF THE MONTH
Share your love for your precious pet by introducing him/her to the community! Whether your friend is of the feline, canine, amphibian, avian or other species, we recognize the uniqueness of your pet and are happy to share his/her photo and name. All entries are entered to win the monthly Pet Contest. One winner a month will receive a $100 gift card to a local Pet Spa and store.