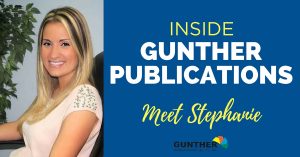 We're back with another edition of Inside Gunther Publications!
You may have read a great issue of the Family Times while looking for exciting new events to take the kids, or read an interesting health article written by a medical professional in Princeton's Ask the Doctor. If these sound familiar to you, then you already know a bit about Gunther Publications!
With four print publications including The Millstone Times, The Family Times, Princeton's Ask the Doctor and Monmouth County's Ask the Doctor, our company targets community resources in the local market to help capture and develop new print advertising strategies.
As one of the leading independent publishers in New Jersey, our mission is to use the pages of each of our publications and free magazines as a "voice" to connect local businesses and charities with the families in their neighborhoods. We love to make a difference in our communities.
Every month, we'll be highlighting employees and clients of our company. You can get the latest scoop Inside Gunther Publications and learn more about what we do, why we do it and how much we love it!
In this "issue" of Inside Gunther Publications, we meet Stephanie Frederick, art director and graphic artist. We spoke to her about her design expertise, new projects and chasing your dreams. Read on!
Q: Tell us a little bit about yourself -where you're from, education, whatever you'd like to share!
Hi! My name is Stephanie, and I am "the girl behind the Mac." I have 3 kids, ages 7, 3, 10 months, and two big dogs. You can say that we have a full house! I love to craft, and spend many sleepless nights browsing Pinterest for my next DIY idea.
Q: What is your current position at Gunther Publications? Give us a "day in the life" of your responsibilities!
I am the graphic artist at Gunther Publications and I am responsible for our four publications, Millstone Times, Family Times, Monmouth County's Ask the Doctor and Princeton's Ask the Doctor.
One thing I love about my job is that no two days are ever the same. Most days I am busy designing our clients' next ad for an upcoming issue, but when deadline weeks approach you will find me laying out hundreds of pages of awesome advertisements and editorials.

Q: How do you connect with clients and customers utilizing your design skills?
I'd like to think that I bring the vision of our clients/sales reps to life. We have an excellent foundation of teamwork here at Gunther ensuring that everyone is happy and everything is exactly to our clients wishes.
Q: Why do you enjoy working at Gunther Publications?
My favorite aspect of working for Gunther Publications is the work we do. I love designing ads, setting editorial and holding the magazines in my hands each month after print. I also am so lucky to have an in-home office and work while surround by the comfort of myfamily.
Q: What has been your favorite project so far?
My favorite project thus far has been an upcoming redesign of our categories in a few of our magazines. I am looking forward to seeing our little "face-lift" come alive.
Q: What advice to you have for young professionals trying to break into a similar role or industry?
To anyone entering the field of graphic design I would advise that you spend time teaching yourself all that you can before going to school. I attended a 4-year college and have my BA degree, but I truly feel like so much can be self-taught, with an endless amount of information at our fingertips. If you have a passion, chase it!