By: Susan Heckler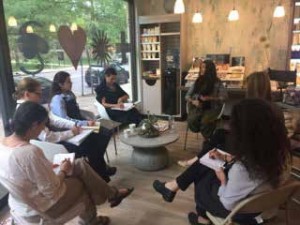 Just a few months old, Santé Integrative Pharmacy is a full-service prescription & compounding pharmacy, which offers traditional & natural healthy living solutions. As with much of
the health care industry, complementary medicine is being blended with traditional medicine with wonderful outcomes. This is the concept behind Santé Integrative Pharmacy at 200 Nassau Street in Princeton.
The store interior is more reminiscent of a small town general store than a pharmacy. No fluorescent lights and impersonal big box feel. The setting is very intimate and non-intimidating. You can discuss your million questions with someone extremely informed over a cup of tea.
Each employee has a specialty and are practitioners in some form of complementary medicine including their pharmacists, homeopaths, estheticians, nutritionists, herbalists, wellness counselors and skincare specialists. They carry an extensive line of skincare, herbal, homeopathic formulas, vitamins, supplements and natural foods in addition to the traditional items found in pharmacies so some may take explanation.
     For example, Diane is a wellness counselor who works with patients of cancer treatments. Caroline is an expert in supplements and nutrition. You will meet Meg, who is a skin care and makeup specialist. Santé employees are a wonderful resource of information, which is a huge contrast to the usual employee of a pharmacy who answers phones and defers to a pharmacist. They can give you the traditional recommendations and also offer you a more natural solution and help you make the informed decision you need.
    The Pharmacists are experts in nutrient depletion. This is the person you need to consult with to show you what nutrients are affected by prescription and over the counter medications. Most people don't realize the indirect effect medications have on our overall health since you want to avoid any unexpected complications.
     Another wonderful aspect they do is compounding. Compounding pharmacies make drugs prescribed by doctors that are specific to patients with needs that can't be met by commercially available drugs. Your medication is

made individually for you based on your medical needs alone.
This is one of those places you just have to see and experience. Owners JoAnn Issenman, Barry Perzow, and pharmacist/owner Chris Castagna are such nice, approachable, knowledgeable people. You will leave there with a new appreciate of what a pharmacy can mean to you, your family and your wellbeing.
They are open M-F from 9am-7pm and Saturdays from 9am-6pm with Sunday hours 9am-5pm.    Questions? (609) 921-8820