By Pam Teel
"Science class has come a long way since I was in elementary school," one of the mothers of Ms. Topinka's students stated. "I just remember reading a chapter, hearing the teacher's monotone voice discussing the chapter, taking a test, and having a tough time staying awake in class all year."
I guess we all experienced those kinds of teachers in our days; after all they weren't there to entertain us, but to teach us knowledge. Today there is a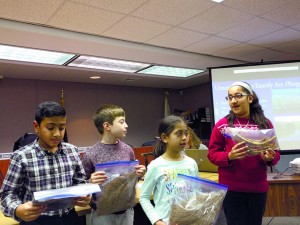 different kind of science being taught, hands on science, where you are not just reading about the topic, you become a part of it; doing your own investigative research and compiling your own personal data. And even beyond that, being able to apply your own problem solving solutions to the mix.
Such is the case in Ms. Topinka's classroom. Ms. Topinka is the STEAM (science, technology, engineering, art, math) lab teacher at the Millstone Elementary School where she teaches grades 2-5. She is also the Science Friday Educator and collaborator and the advisor for the Community Problem Solvers Club along with her co-advisor, teacher, Jennifer Modula. The Community Problem Solvers Club is part of the Future Problem Solving International Program.
Science Friday is a weekly call-in talk show that broadcasts every Friday on public radio stations. The focus of each program is news and information on nature, science, and technology.  An avid fan of the radio show, Ms. Topinka heard about a new initiative idea the show hosts spoke about; different ways to foster collaboration among STEM educators.  After submitting an application along with hundreds of others, she was chosen, along with five other educators, to learn how to share new ways to teach science and technology, not just with each other, but also with their prospective students. Educators participated in formal trainings over several months and began discussing their curriculum and ideas. One thing that made Ms. Topinka the perfect candidate was that she was already introducing media into her classroom curriculum.
There are currently 19 children in the Problem Solvers Club, which range from third through fifth grade. After brainstorming a variety of problems facing Millstone Township, the students decided on an invasive species of plants that the fifth graders were studying. After learning that this plant has also been spreading in and around Millstone Township, the children did online research at Environmental and Park Service websites. They also did an interview using Skype with Dr. Louise Wootton, Chair of Biology at Georgian Court University in Lakewood, and an expert on invasive species.  They did another Skype interview with Ms. Elaine Ferrier, who is a Great Lakes Phragmites Collaborative in Michigan. The invasive species that they studied was a plant called Phragmites australis (also known as European Common Reed).
A parent in Ms. Topinka's class put their project on facebook, inspiring Millstone Township resident and Boy Scout leader, Nick DellaRosa, to come into their classroom for three meetings to teach the students how to take their online survey data and map the Phragmites locations as color-coded polygons on a Google map using satellite and street images. They also reached out to a local landscaper to find out what equipment works best to cut down the plants.
On January 9th, the students did a presentation in front of the Millstone Townships Environmental Commission explaining what they learned about the plant in front of an impressed commission and a very proud teacher.
It was interesting interviewing a few of the students in the club and learning a few interesting facts about the invasive plant.  Fourth graders, Anna DePinho, Ethan Bailey, and Thomas Maltese answered the following questions for the interview.
How big do these plants grow? They can grow up to eight to fourteen feet long.
Do they multiply by seed or root? They multiply by rhizomes and seeds.
Do they like wet or dry areas?  You see them mostly in wet and swampy areas.
Are these plants a fire hazard? Yes, they can catch on fire and spread from one to the other.
Student, Charlie Duffy learned that these reeds can destroy whole lakes and that everything could be gone in a matter of years. He especially loved learning about how to make maps and using GIS technology.
The students also did an experiment introducing the plant to goats to see if they would like eating the plant and they did enjoy them. The club has also gotten valuable help from Galina Gordon, a former student of Ms. Topinka, who was in her original Future Problem Solvers group in the Middle School. She's now in high school and volunteers her time every week to work with the club.
The students will be giving presentations about their research to local scout groups and spreading the words to people who use the woods in Millstone and the Perrineville Lake area. They are also anticipating a guest speaker coming soon to their classroom from the Monmouth County Park System to speak with them about how the parks manage invasive plants, Phragmites in particular.
The club calls themselves the Phearless Phragmites Phighters and sometime this February they will be submitting their work to the Future Problem Solvers State Organization in hopes of being invited to compete at the NJ State Bowl in March.
To date, this has been Ms. Topinka's favorite project. She is very proud of all of the efforts put forth by her students. The children have spoken to and have met many new people throughout the course of the project and they have learned many new and interesting things.  Most rewarding to Ms. Topinka is seeing the enthusiasm in her students' faces as they learn new things and that the children see for themselves that they can make a big difference in their community.
The children look forward to continuing working with the Township Environmental Committee and the Monmouth County Park System on coming up with solutions to keep the invasive plant under control in their township.