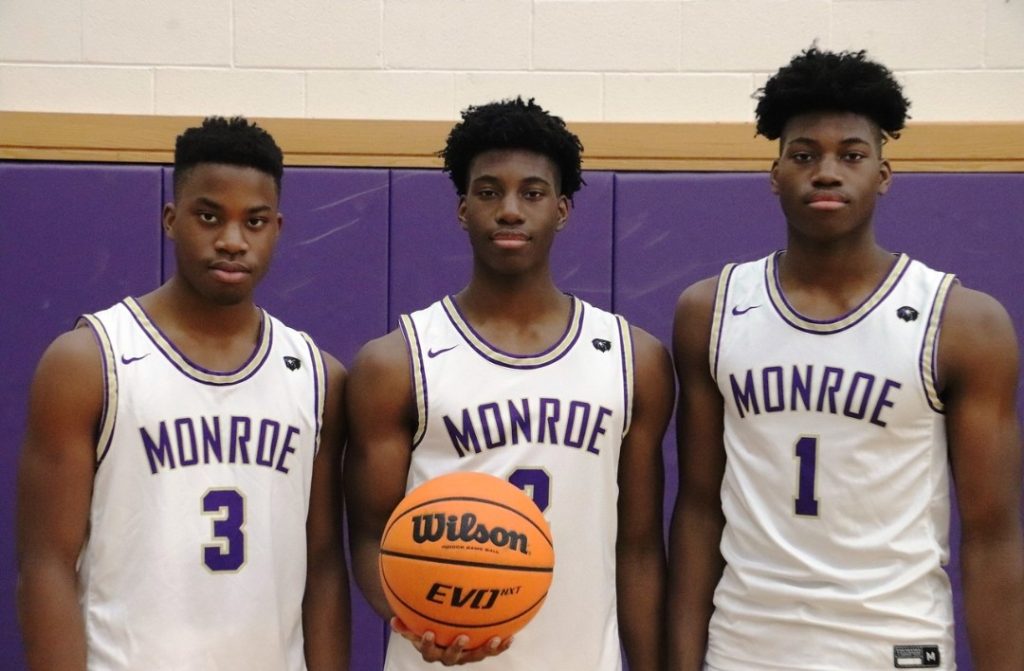 Described as being motivational, loyal, and different by teammates, it's no surprise that the Okocha triplets, Elijah, Jonathan, and Joshua, (better known as Eli, Jon, and Josh) have been dominating this season as varsity players of the boys' basketball team. The triple threat has been explosive on both ends of the floor, helping the Falcons reach a 14-2 record for the season so far.
When he's not hanging out with friends or spending time working at Quick Check, Eli is a student athlete for Monroe as a player for the football and basketball team. He recalls a basketball game, last season, specifically, in which he was struggling offensively.
"I was struggling with shooting the whole game. I was losing confidence and the game was going down to the last shot. Coach Warner ended up trusting me with the shot and I ended up scoring a three pointer to take the lead. This moment will always stay with me because it shows the amount of trust and confidence Coach Warner has in me."
Eli's ability to perform under pressure, however, has been undeniable this season. During a 49-49 tie game versus St. Joe's Metuchen, with barely two seconds left in regulation, Eli released a nearly half-court shot after receiving the ball inbounds from his brother, Josh. The remarkable shot gave Monroe the 52-49 win over St. Joe's, a first in program history.
Speaking of game winners, Jon had one of his own on Super Saturday, the school's first annual all-day basketball event. Just two days after his brother's historic buzzer beater, Jon hit a shot in overtime against South Brunswick. With over 12,000 people voting for him, he was also awarded the Central Jersey Game Ball earlier in the season for his 27-point performance versus Burlington Township. On December 30, 2021, he was recognized as the tournament MVP as the Monroe Falcons took home the championship win.
In regards to achieving these accomplishments, Jon expressed that they were, "…a great honor…knowing that the long hours shooting in the gym, lifting in the weight room, and hard summer workouts with the team are starting to pay off…To be recognized for both of these awards has been a blessing…"
Even on his off time, Jon continues to better himself as an athlete by lifting, working out, and bonding with teammates, as he has intentions of playing basketball in college too.
Josh, lastly, is heavily involved with the athletics department at the school. He's been interning as an athletic trainer during his senior year, helping other students rehabilitate from injuries, and has previously volunteered as a summer basketball counselor as well.
He is also a member of the African American club and Table Tennis club. Besides this, he enjoys watching movies and YouTube in addition to playing video games. When asked about what he'll miss about the basketball program at Monroe, Josh mentioned the special, family-like bond among players and the supportive fans.
"Mostly all of the players have grown up together playing on the same youth team and developing friendships that will last a lifetime…I will greatly miss the fans that come to support us night in and night out. The fans fill up the stands and bring great energy throughout the whole game even through our lows. The enthusiasm allows us to play better and prevail through hard fought games."
Throughout the season, the Okochas have earned high praise from teammates and coaching staff alike. While head coach Mr. Jeffrey Warner has openly commended their scoring abilities and contributions on the defensive end, teammate and varsity guard Vansh Parikh admired the Okocha's dedication not only to the game, but also to the town of Monroe.
"The 'triplets' as we like to call them, are some of the best people I know…The triplets are very talented athletes and easily could have gone to a private school and potentially earned varsity minutes at some high-end private school, but they decided to stay in Monroe and play basketball with the people they grew up with. Us seniors have been playing basketball together since nearly the 4th grade, and we consider each other family. They are the type of people who will always be there for you, on and off the court."
Following graduation, the Okochas hope to take their athletic abilities to college. While Eli is unsure if he wants to play his respective sports at the collegiate level, he is interested in studying business, particularly real estate, in addition to potentially furthering his athletic career. Jon wishes to attend East Stroudsburg University in Pennsylvania and play basketball in college. He is still undecided on his major, but is considering Exercise Science, Physical Therapy, Athletic Training, or Biology as he aspires to have a physical therapy-related career in the future. Josh, however, is planning on working towards a Doctor of Physical Therapy while playing basketball for Seton Hall University.
Even though their post-graduation plans are not concrete at the moment, Monroe is looking forward to seeing this special set of triplets fulfill their dreams, one-euro step at a time.