By: Erin Mumby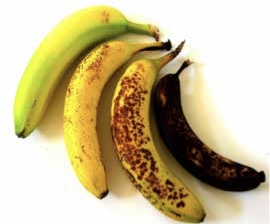 Bananas are an important super food. Most people purchase a bunch of bananas while they're still green. As they ripen into a yellow color, you'll eat them. When they develop brown spots, or turn completely brown, you'll throw them out! Think again!
Not only do brown spots mean that the banana is getting riper, they also have im- proved qualities to strengthen your immune system. Those qualities are found in Tu- mor Necrosis Factor, or TNF, which is found in bananas. TNF is a substance that fights cancer! It helps to move body cells toward infected/ in inflamed areas. Cells are destroyed and prevent tumor cells from growing and spreading throughout the body.
Bananas have high levels of antioxidants. Bananas can increase our white blood cell counts. ey also help to strengthen the immune system.
Highly nutritious- Not only are bananas good for our immune system, they are also filled with vitamins, nutrients, fiber and natural sugars. Bananas can keep your body healthy in various ways.
Here are some of the reasons why:
1. NEED TO LOWER YOUR BLOOD PRESSURE? HAVE A BANANA!
Bananas can help to lower your blood pressure because they are low in sodium and high in potassium. The high potassium lessens the effect of the sodium! Look for other ways to add potassium into your diet as well in order to lower blood pressure.
2. THEY TREAT ACID REFLUX
Bananas can be considered a naturally occurring antacid. Eating just one banana when you feel that you're having heartburn can immediately reduce and relieve the pain and discomfort of heartburn.
3. BANANAS ARE A GREAT SOURCE OF IRON
The unpleasant effects of anemia can be improved by taking in a significant amount of iron through diet. Bananas are a great source of iron! Iron promotes the growth of red blood cells and hemoglobin. These combined efforts strengthen the blood flow throughout your entire body.
4. THEY PROVIDE ENERGY
Bananas are also a great source of energy! They make for a great pre-work out snack. Bananas have low glycemic carbs that increase your body's endurance. The potassium in bananas also help your muscles fight against cramps.
5. SOFT AND SATISFYING
People who suffer from stomach ulcers have to avoid certain foods. Many nutritious foods can cause pain or damage to the ulcers. Bananas are different! Bananas can be safely eaten by people with ulcers because of their smooth texture. The softness of the banana protects the stomach lining from acids and other irritants.
6. THEY HELP TO FIGHT DEPRESSION
Did you know bananas can help beat depression? The reason is that bananas contain high levels of tryptophan. Tryptophan is then changed into serotonin in our bodies. Serotonin makes you happier, relaxed and improves your mood! Eating bananas can help people improve their lives!
7. BANANAS PREVENT CONSTIPATION
Bananas contain sufficient amounts of fiber to help regulate bowel movements. Their high fiber safe guards against constipation. If you happen to be constipated, a few bananas will help you with this problem! Their fiber content is natural relief for constipation.
8. THEY CALM THE NERVOUS SYSTEM
We all get stressed out. Everybody has moods. Consider eating a few bananas if you're down in the dumps. Bananas regulate blood sugar and contain B vitamins. B vitamins help to calm your body's nervous system. Who knew bananas could make you so happy?
9. THEY CONTROL YOUR BODY TEMPERATURE
Eating a banana when it's hot outside can cool you too ! It will lower your body temperature! Have a fever? Don't worry! Eat a banana, and your temperature should fall back down to normal shortly!
10. BANANAS HELP WITH PMS
Premenstrual Syndrome (PMS) Eat a banana instead of taking your pills! Bananas contain the vitamin B-6, which helps to regulate blood glucose levels, which can a ect your mood, even before your menstrual cycle.
11. BANANAS CAN HELP BEAT BELLY FAT
Bananas have 12 mg of choline, a B vitamin that acts directly on the genes that cause fat storage in your abdomen. Choline is also present in lean meats, seafood and collard greens. Foods high in choline are an essential part of having a flat stomach. Eating bananas is another way to reaching your goal weight!