By: Pam Teel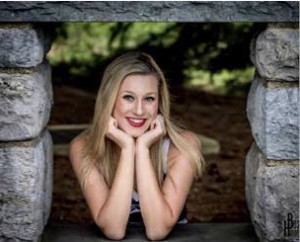 Lexi Balzachino, from Millstone Township, is an aspiring performer. She's been dancing since she was 2 years old, starting with performing every style of competition dancing. When she was 8 years old, she began training to become a professional ballerina at Princeton Dance and eatre.
She then started voice lessons in town. When she was in middle school, she enjoyed being in the school musicals. By the time she le Allentown High School, she was a featured dancer/ensemble in Curtains, Elf/featured dancer in Shrek the Musical, Serena/Dance Captain in Legally Blonde, and Morticia/Dance Captain in e Addams Family. She was also accepted to the Rutgers High School Musical eatre Academy her junior and senior year of high school. is program and the director, Alistair Williams, really introduced her to and made her fall in love with musical theatre. She took voice classes, acting classes, dance classes, and stage performance classes.
When she began the college search, she was looking for a school with a great ballet program, but switched gears and decided to do musical theatre instead. She really found her true calling at Penn State University where she is majoring in Dance and eatre and nishing up her freshman year at the university. She absolutely loves the School of eatre at Penn State. She feels that she has already learned so much more about her talent, artistry, and capabilities. e faculty really opened up her mind and pushes her to artistic limits that she didn't even know existed. It is an amazing experience for her being a part of the theatre group.
She was also on the Lionettes Dance Team this past year where she found that dancing for a stadium of 107,000 people was breathtaking and unforgettable. She will always cherish her time with that team. ey really pushed her to a new level with learning and accomplishing di erent skills. Not being able to do it all, she had to resign her position on the Lionettes and focus the rest of her three years at Penn State on eatre because that's where her heart is and that's what she wants to do in the future, perform.
She recently did a performance in New York City for an organization called Broadway Artists Connection. Lexi had sent them a video of herself singing a Broadway song to be selected to sing at one of their events. She was one of 10 chosen to perform on May 22.
The mission of the organization is to help young aspiring artists like herself, share their talents and make connections with professionals already in the business. So the performance included 10 aspiring artists and 10 Broadway performers who were given time to mix and mingle. Lexi gained valuable knowledge about the industry that she hopes one day to be a part of. She sang a song from "Heathers: e Musical called Fight for Me." If you would like to view her audition video you can nd it on her facebook page under her name. Lexi A. Baldachino or you tube: https://youtu.be/-6M_j4jUq8Q
We wish you many more artistic adventures during the next three years of college Lexi. Maybe we'll see you on Broadway in the near future!